The board of directors of Regular Baptist Builders Club awarded $50,900 in grants and $10,000 in loans to fuel church plants, church planter residencies, facility renovations, and and church revitalizations.
Two months after Calvary Baptist Church burned to the ground in a massive wildfire, church members have been allowed back onto the property.
Even though most of its people are still living in temporary housing after a wildfire swept through Paradise, California, Calvary Baptist Church gathered on a recent Sunday for a Christmas banquet.
A church building and many church members' homes have been destroyed by a wildfire sweeping through Paradise, California.
Grace Baptist Church is ministering to people in its church and community who have lost homes in the Carr Fire.
Regular Baptist Builders Club is ready to help Grace Baptist Church, Redding, California, care for its members and community during recent wildfires.
To help grow healthy churches, the Regular Baptist Builders Club board of administrators has approved three grants and a new initiative called Lift Up.
Regular Baptist Builders Club announces the launch of two new grant initiatives to spark church planting and revitalization! We invite you to learn about these …
An ongoing financial need exists in Northern California, where two GARBC churches are trying to help at least 11 families who lost homes in recent wildfires.
Regular Baptist Builders Club and Bruce McLain, state representative of the California Association of Regular Baptist Churches Representative, are monitoring the ongoing wildfires in Southern California, where homes have been destroyed and strong winds have forced 110,000 people to be evacuated around the greater Los Angeles area.
Teens and adults from two Colorado churches are rebuilding interior walls in two homes that had flooded in Humble, Texas, following Hurricane Harvey.
Homes of two families from Berean Baptist Church are slowly drying out and are almost ready for rebuilding following Hurricane Harvey.
Three Baptist agencies— Regular Baptist Builders Club, Baptist Church Planters, and Baptist Mid-Missions—are assisting churches and families affected by Hurricane Harvey in Houston.
Regular Baptist Ministries has established a Hurricane Harvey Relief Fund for donations designed to meet the needs of Regular Baptist churches and their members affected by the flooding in the Houston area.
The homes of three families from Berean Baptist Church, Humble, Texas, are underwater and another has suffered extensive damage in the midst of Hurricane Harvey.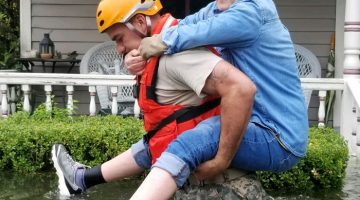 Two Regular Baptist churches in greater Houston, Texas, are directly under threat of catastrophic flooding by Hurricane Harvey, which has dumped more than 25 inches of rain and more is expected this week.
To better align Regular Baptist Builders Club with the GARBC's vision to plant and revitalize churches, Clare Jewell has been asked to serve as both the national coordinator for Regular Baptist Church Planting and the director for Regular Baptist Builders Club.