Regular Baptist Builders Club Director Clare Jewell met with pastors of a church plant in Grant, Michigan.
First Baptist Church is in the beginning stages of the church revitalization process after receiving one of the first Lift Up grants by Regular Baptist Builders Club.
Pastor Mike Jayne of Faith Baptist Church thanks Regular Baptist Builders Club and its donors for a grant to renovate his church building.
Regular Baptist Builders Club's board of administrators considered a record number of applications during its fall meetings, awarding more than $84,000 in grants and loans to six Regular Baptist churches.
A rapidly moving wildfire destroyed a large number of buildings in Paradise, California, Thursday as it raced through the mountain community of about 26,000, taking Calvary Baptist Church with it.
The Regular Baptist Builders Club board of directors may be considering a record 11 grant applications during its fall meeting this month.
The Regular Baptist Builders Club board of administrators has awarded a $20,000 Help Up grant to Ankeny (Iowa) Baptist Church to help the church and its members recover from flood damage.
Ankeny Baptist Church and nearby Faith Baptist Bible College and Seminary were flooded by heavy storms that dropped 10 inches of rain in three hours last Saturday night.
Two Regular Baptist churches in Michigan are serving their communities after massive flooding Father's Day weekend severely damaged homes and washed out roadways.
Restored Church, a growing church plant in Pennsylvania, is grateful for a $10,000 Start Up grant that Regular Baptist Builders Club provided last month.
Faith Baptist Church in the middle of a remodeling project with help from a $20,000 Build Up grant from Regular Baptist Builders Club.
The Regular Baptist Builders Club board of administrators voted to award $55,000 in grants and $25,000 in loans to six churches during its Nov. 15 meeting. Director Clare Jewell says this is likely the highest number of churches requesting grants at one time.
After hurricanes battered Texas and Florida, rebuilding has begun thanks to the generosity of GARBC churches and individuals.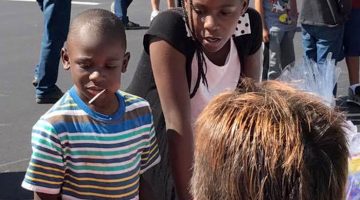 Immanuel Baptist Church sends its thanks to Regular Baptist Builders Club for giving the church a $15,000 grant to replace its parking lot.
As cleanup of First Baptist Church enters the third day, the church is grateful for volunteers who have offered their assistance.
Less than 24 hours after a tornado hit the Portland area, severely damaging First Baptist Church, Baptist Builders Club was on site to help the church clean up and minister to its community.
After a devastating flood in 2014, Tabernacle Baptist Church is on the road to recovery with the help of Baptist Builders Club.
The IRS recently announced the new standard mileage rates for 2015 in the release IR-2014-114.
In 1995, the Baptist Builders Club board of administrators agreed to increase the amount a GARBC church could request for a grant or interest-free loan. …
Calvary Baptist Church, Cresaptown, Md., is rebuilding after a flood. "The Lord met our crisis, and over 30 churches have reached out to our need and sent contributions to help us," says Pastor Bruce McBride.
As flooding hits Michigan, New York, and New Jersey, Baptist Builders Club has called state representatives and churches in affected areas to see if they need help.
Astoria is a middle-class Queens neighborhood of about 150,000 people, and it's a microcosm of the world's ethnicities. Right there in that melting pot, a Bible-preaching, gospel-sharing church is being planted: City View Baptist.