Two months after Calvary Baptist Church burned to the ground in a massive wildfire, church members have been allowed back onto the property.
Even though most of its people are still living in temporary housing after a wildfire swept through Paradise, California, Calvary Baptist Church gathered on a recent Sunday for a Christmas banquet.
A church building and many church members' homes have been destroyed by a wildfire sweeping through Paradise, California.
A rapidly moving wildfire destroyed a large number of buildings in Paradise, California, Thursday as it raced through the mountain community of about 26,000, taking Calvary Baptist Church with it.
Regular Baptist Builders Club has reached out to GARBC churches in the potential path of Hurricane Florence and stands ready to help.
Grace Baptist Church is ministering to people in its church and community who have lost homes in the Carr Fire.
Regular Baptist Builders Club is ready to help Grace Baptist Church, Redding, California, care for its members and community during recent wildfires.
Two Regular Baptist churches in Michigan are serving their communities after massive flooding Father's Day weekend severely damaged homes and washed out roadways.
An ongoing financial need exists in Northern California, where two GARBC churches are trying to help at least 11 families who lost homes in recent wildfires.
Regular Baptist Builders Club has established a new Disaster Relief Fund called 2017 CA Fires to help Regular Baptist churches recover from the damages caused by wildfires in California.
Regular Baptist Builders Club and Bruce McLain, state representative of the California Association of Regular Baptist Churches Representative, are monitoring the ongoing wildfires in Southern California, where homes have been destroyed and strong winds have forced 110,000 people to be evacuated around the greater Los Angeles area.
After hurricanes battered Texas and Florida, rebuilding has begun thanks to the generosity of GARBC churches and individuals.
Teens and adults from two Colorado churches are rebuilding interior walls in two homes that had flooded in Humble, Texas, following Hurricane Harvey.
Homes of two families from Berean Baptist Church are slowly drying out and are almost ready for rebuilding following Hurricane Harvey.
Three Baptist agencies— Regular Baptist Builders Club, Baptist Church Planters, and Baptist Mid-Missions—are assisting churches and families affected by Hurricane Harvey in Houston.
Regular Baptist Ministries has established a Hurricane Harvey Relief Fund for donations designed to meet the needs of Regular Baptist churches and their members affected by the flooding in the Houston area.
The homes of three families from Berean Baptist Church, Humble, Texas, are underwater and another has suffered extensive damage in the midst of Hurricane Harvey.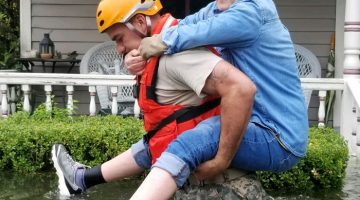 Two Regular Baptist churches in greater Houston, Texas, are directly under threat of catastrophic flooding by Hurricane Harvey, which has dumped more than 25 inches of rain and more is expected this week.
Severe weather and several tornadoes were reported in parts of Illinois and Missouri Feb. 28. Today the disaster relief team is calling churches to evaluate the severity of any damages.
Severe weather recently moved through the Southeast for two days, causing widespread damage.
Hurricane Matthew is a reminder of how everyone needs to be ready to Pray, Give, or Go!

Regular Baptist Builders Club Director Michael Nolan is making final preparations for the ministry's Disaster Relief team to head south in the wake of Hurricane Matthew.
In anticipation of Hurricane Matthew, the Disaster Relief ministry of Regular Baptist Builders Club is standing by ready to help.
GARBC churches in northern Iowa experienced flooding over the past few days, and some portions of Cedar Rapids, Iowa, have been evacuated.

The waters have receded, and the damages of the flood that filled the basement of Calvary Independent Baptist Church in Clendenin, West Virginia, with six feet of water are evident.
Berean Independent Baptist Church in Fort Ashby, West Virginia, caught fire sometime in the early morning hours on March 16.
On Feb. 24 and 25 a wave of severe weather stretched from the South all the way to the Northeast coast. No GARBC churches were …
Severe weather swept from the South to the East Coast Feb. 23 and 24. The Regular Baptist Builders Club team will be busy today making calls to GARBC churches in the affected areas.
The water pollution problem that is at the forefront of news media is no surprise to GARBC churches in Flint, Michigan. Pastor Cory Snyder of …
Recent flooding in Columbia, South Carolina, prompted a well-check call to the GARBC church in the area. Baptist Builders Club contacted Foundation Baptist Church in …
The Disaster Relief ministry was in the forefront of everyone's mind at the GARBC Annual Conference that took place June 29—July 3 in Omaha. Many wanted to learn more about the ministry and were particularly concerned for the recovery efforts of First Baptist Church in Portland, Michigan.
As cleanup of First Baptist Church enters the third day, the church is grateful for volunteers who have offered their assistance.
Less than 24 hours after a tornado hit the Portland area, severely damaging First Baptist Church, Baptist Builders Club was on site to help the church clean up and minister to its community.
Help is needed now in Portland, Michigan! A tornado touched down Monday, June 22, a little after 3 p.m. Central Standard Time.
Each Ready Now team member who goes out into the field to serve and minister needs a way to be identified. Baptist Builders Club now has T-shirts and hats so they can easily be spotted.
Do churches ever return unused funds after receiving Baptist Builders Club grants? Yes, at times they do.
A tornado touched down in a small northern Illinois town about 7 p.m. on April 9, killing one and injuring several more.
And Jonathan Saul's son arose, and went to David into the wood, and strengthened his hand in God. 1 Samuel 23:16 KJV David was on …
Then said David to the Philistine, Thou comest to me with a sword, and with a spear, and with a shield: but I come to …
But the LORD said unto Samuel, Look not on his countenance, or on the height of his stature; because I have refused him: for the …
Typically March is the month when significant tornado activity begins, but up until March 25, no significant tornadoes had touched down.
A year has passed since Baptist Builders Club announced its new disaster relief ministry, and the ministry has now reached full support.
Baptist Builders Club Disaster Relief is getting closer to the goal! Help stuff the Disaster Relief trailer by adopting the BBC-USA ministry  for  your church's, …
As flooding hits Michigan, New York, and New Jersey, Baptist Builders Club has called state representatives and churches in affected areas to see if they need help.
Each year at the GARBC Conference the director of Baptist Builders Club takes the stage for a formal check presentation and shares a report of …
Help is needed now! A tornado blew through southern Wisconsin early on June 17. Two towns, Verona and Madison, were severely damaged. Memorial Baptist Church …
As soon as reports came in that a tornado had touched down near the farming community around Cedarville, Ohio, Baptist Builders Club staff began reaching …
As many in Nebraska and Missouri were recognizing and celebrating their mothers, storms and tornados hit areas surrounding Omaha and Kansas City. Baptist Builders Club …
On Sunday, April 27th, severe storms devastated areas of Arkansas as well as other parts of the central and southern states.  Michael Nolan, director of …
After months of research and fundraising Baptist Builders Club Michael Nolan has an update on a Disaster Relief trailer that will fit the needs of …
A brief video update on the aftermath of the mudslide in Washington. Original post follows: The Baptist Builders Club team is reaching out to area …
The Baptist Builders Club team is reaching out to area churches in Snohomish County, Wash. with prayers and phone calls. The county was evacuated when …
It is not if the next disaster will occur, but when the next disaster will happen. Baptist Builders Club – USA is preparing to be …
We need your immediate help for relief efforts! At the 2013 GARBC Conference, BBC­–USA Director Michael Nolan announced the creation of the Disaster Relief Fund. …