Iglesia Bautista La Gracia celebrated a dedication service last Sunday with Regular Baptist Builders Club Director Clare Jewell and Pastor Rhyjob "RJ" Cabugwas of First Baptist Church, Spring Valley, California.
Regular Baptist Builders Club approved a first year Start Up grant for a church in California that is starting a Hispanic church plant in Arkansas.
Restored Church, a growing church plant in Pennsylvania, is grateful for a $10,000 Start Up grant that Regular Baptist Builders Club provided last month.
Church planters face enormous demands as they try to juggle family responsibilities, ministry, and often school and part-time jobs. How can they live sustainable lives?
Baptist Builders Club Director Michael Nolan was invited to join Continental Baptist Missions church planters and their families for a few days at their family …
The Baptist Builders Club board of administrators and Director Michael Nolan will meet on April 16 to review the needs of four churches that have applied for Build Up or Start Up grants and loans.
After a board of administrators meeting, two churches will be receiving not only financial assistance, but physical help to complete projects they have planned.
Why start more churches? This question is often raised by pastors and church leaders. Here is the first of seven reasons to lead your church …
Michael Nolan, director of Baptist Builders Club, began the new year with good news for six churches. While the churches had received financial aid from …
Restored Church (A Baptist Church), Wilkes-Barre, Pennsylvania, a new church plant, requested three years of assistance under the BBC-USA Start-Up plan. The board approved grant …
Schaumburg, Ill.—Wisconsin State Representative, Ed Fuller, Pastor Dan Mead of Faribault, Minnesota, and Pastor Aaron Patton of Kansas City, Kansas, met in mid-November with BBC …
Help encourage a new church by making Baptist Builders Club-USA part of a Christmas Giving Project! Funds for this special project assist church plants in …
Adopt a Church Plant — Would you like to pray specifically for brothers and sisters involved in a church plant—maybe even send them encouraging notes …
Church Planting—I had no idea! That is, I had no idea of the challenges that church planting presents. Each plant is unique and faces its …
Ankeny, Iowa—Michael Nolan, director of Baptist Builders Club, spoke to a group of church planters and their wives, sharing with them the value of being …
Baptist Builders Club has a heart for churches—not just any churches, but Regular Baptist churches. That was the message BBC–USA conveyed throughout this year's GARBC …
At the 2012 GARBC Conference, Baptist Builders Club presented fellowshipping churches with checks of assistance. During the year, the ministry granted 11 churches assistance, and …
CHEROKEE VILLAGE, Ark.—Charles "Bud" Johnson, a second-career church-planting missionary, died May 28 at age 85. Bud trusted Christ as his Savior at age 14 at …
Baptist Builders Club has a burden to see new churches started across America! Churches that are committed to showing Christ's love while holding true to …
Baptist Builders Club has a heart for churches. Whether it is a new church just getting off the ground, a church expanding, a church experiencing …
On Nov. 16, the Baptist Builders Club board of administrators met with the director at the GARBC Resource Center in Schaumburg, Ill., to review applications …
SCHAUMBURG, Ill.—Last April, Baptist Builders Club approved Great Commission Baptist Church to receive three years of BBC–USA assistance. During the past year, the church has …
Buckeye, Ariz.—Pastor Adam Zamora of Desert Hills Baptist Church presented a recognition plaque to Michael Nolan, director of Baptist Builders Club, to show appreciation to …
BBC–USA initiates expanded Start Up program with grant to a local church SCHAUMBURG, Ill.—Baptist Builders Club has expanded its program, and Great Commission Baptist Church …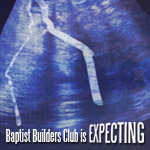 Baptist Builders Club is expecting! Expecting to assist church plants all over the U.S. in a greater way than ever before! Expecting more involvement from …
Where They Were Since 1950 the Baptist Builders Club (BBC) has awarded over 3 million dollars to Regular Baptist churches in need. From the first …
The Gretna Baptist Church of Gretna, Nebraska, has observed ten years of ministry; more than a hundred guests attended three services on September 9, organized …