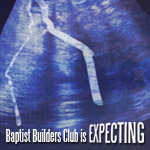 Baptist Builders Club is expecting! Expecting to assist church plants all over the U.S. in a greater way than ever before! Expecting more involvement from the GARBC family! Expecting great results as God blesses!
The BBC board of administrators and Director Michael Nolan—along with the GARBC Council of Eighteen and the GARBC national representative—are pleased to announce that the Start-Up ministry of BBC is expanding.
Historically Baptist Builders Club has given assistance of up to $15,000 to applicant churches in the church-planting phase. Now—through God's leading, after prayerful consideration, and via the GARBC Resource Center, its staff, and their abilities—BBC will aid church plants in new ways. Instead of only one-time monetary assistance, church plants will receive a variety of assistance for up to three years!
The BBC team held discussions with multiple church planters, missionaries, mission agencies, and planting agencies to come up with the best ways to help church plants in their development. The results are three stages of care: prenatal, birth or launch, and growth.
Prenatal—Year 1
$5,000 check for postcard/blitz advertising and for assistance with church's temporary rental location (year 1 only)
Website design
Brochure design and printing costs
Boot-camp training for "things to come," in cooperation with agencies, to ensure the planter is prepared
Baptist Bulletin spotlight on the church plant
Chaplain work in the community in conjunction with Regular Baptist Chaplaincy, led by Regular Baptist Ministries
Birth/Launch—Year 2
$10,000 check (presented at the GARBC Conference)
Website design
Sunday brochure design and up-front printing costs
Teacher/leader training
1 year of RBP material
1 year of Baptist Bulletin subscriptions
Baptist Bulletin spotlight on the church plant (update)
Strategic planning and financial planning assistance
Paid registrations for entire church to attend the GARBC Conference (1st year, after churches' official organization)
$1,000 for entire church to use for travel to GARBC Conference
Growth—Year 3
$10,000 check for land/building costs (presented at the GARBC Conference)
Builders and people to help (coordinated among missionary builders through BBC)
Baptist Bulletin spotlight on the church plant (update)
Follow-up strategic planning and financial planning assistance
Organizing established churches to help with equipment and furnishings
As you can see, the Start-Up ministry exists to help those who are praying about planting churches. But we cannot do it alone. We need every member of every GARBC church to lend support by signing up to become a member today.
OVER $55,000 IN TOTAL SUPPORT AND SERVICES COULD BE AVAILABLE
Please join us in this important initiative!
Click to DONATE ONLINE or contact Kristen at knolan@garbc.org to become a BBC Member.